5 Best Multiband Compressor Plugins for Mixing
Compressors are one of the most essential pieces in a music producer's toolkit. Multiband compressors give you increased flexibility by letting you split a signal into multiple "bands" that you can process independently of one another.
In this article, you will learn about the advanced art of mixing with compression using multiband compressor plugins. We'll also list 5 of the best multiband compressor plugins you can use right away.
Want a radio-ready track guaranteed? Get started with mixing and mastering services from our 127x Platinum audio engineer. Order now!
What is multiband compression?
In one of our mixing tips blogs, we lightly touched on how multi-band compression works. As a refresher, compressor plugins help you control the dynamic range of your vocals or tracks.
A standard compressor plugin allows you to reduce the dynamic range of a given track by lowering the volume the loudest parts of the audio. This volume reduction is usually paired with a volume increase for the whole signal after the compression, such that the quietest parts of the audio are made louder. This process reduces the difference between the loudest and quietest parts of a track (i.e. the dynamic range), which makes the track easier to mix into the rest of your song.
Traditional compressor plugins process the entire signal the same way. Nothing wrong with that as long as it sounds the way you want it to!
But if you want more control over your track/vocals across multiple frequency bands, working with multiband compression is the way to go. We will explain more
A multiband compressor essentially consists of multiple "traditional" compressors split into "bands" across the frequency spectrum. A typical setup might look something like this:
Band 1: 0-100 Hz
Band 2: 101 Hz-500 Hz
Band 3: 501 Hz-1000 Hz
Band 4: 1001 Hz-5000 Hz
Band 5: 5001 Hz-20k Hz
With this setup, you'll essentially have a separate compressor on each of these bands, giving you the ability to compress the sub frequencies in Band 1 differently than the mid frequencies in Band 3. What's really cool is that you can adjust the bands themselves depending on whatever you are compressing. So maybe you want Band 3 to be 400Hz-2000Hz instead — you can do that.
So, remember;
Multiband compression allows you to compress specific frequency ranges
Changes only affect one frequency band and not the entire channel
How are multi-band compressors used?
There are two main ways to work with multiband compressors;
You can use them to control the dynamic range of a track
You can use them somewhat like an EQ to control the sonic character of a given track
5 Best Multiband Compressors for 2020
Waves C6 Multiband Compression Plugin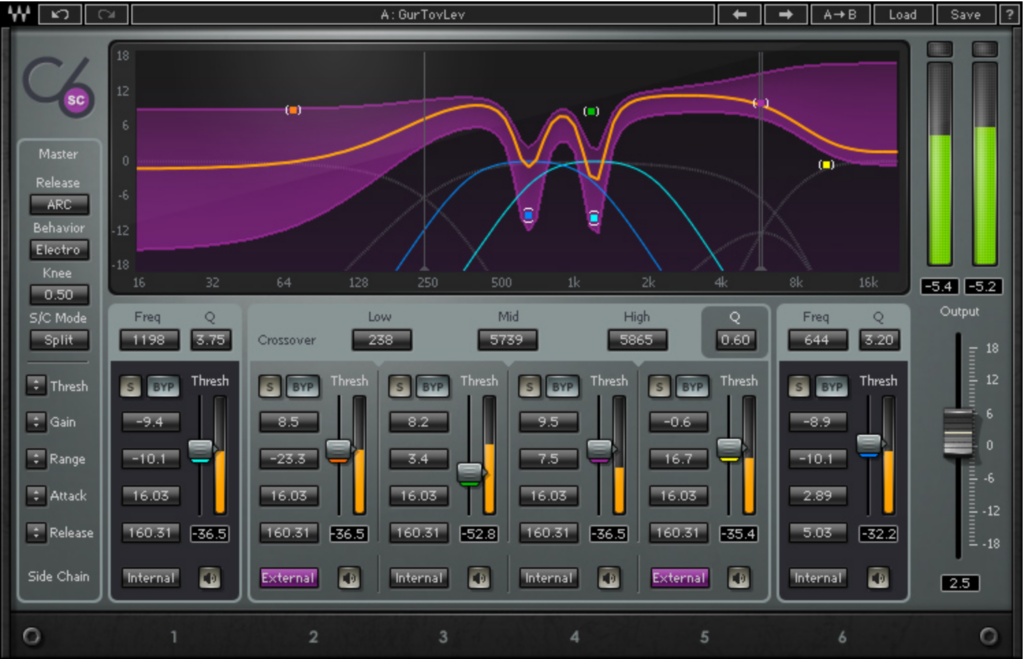 Waves C6 is a favorite among audio engineers that work with live sound. With a detailed and vibrant interface, this multiband compressor plugin will handle everything from live shows to studio-recorded sounds.
This compressor plugin is an improvement from the previous and equally loved Waves C4. Sporting the same chassis, Waves C6 adds two more floating bands to the existing four crossover bands. Each band has internal and external side chains as well as listening modes.
Whether you are mixing at home or in a professional recording studio, this multiband compressor plugin will change your game. With in-built compression, expansion, and Dynamic EQ features, everything is at your disposal to come up with a release-ready mix.
Get Wave C6 Multiband Compression Plugin here
Fab Pro-Mb
One thing that makes this multi-compressor plugin stand out is its flexibility. The Fab Filter Pro-Mb compressor plugin comes with 6 unique processing bands. Each band can be moved around the audio spectrum to edit specific frequencies.
This happens to be a do-it-all compressor plugin as well. Whether you are in the early stages of writing a song or mixing and mastering audio in post-production, this plugin has all the features you need.
As you work with crossover, you do not have to split your spectrum. Create new bands within the same frequency range and continue cleaning up your mix. Another cool feature is the ability to snap bands together. This allows you to edit crossovers in the traditional style.
The Fab Filter Pro-MB multiband-compressor plugin has a plethora of controls for customizing your bands. Its multiband display is easy to use for both novice and experienced audio engineers.
Get Fab Filter Pro-Mb multi-band compressor plugin here
Precision Multiband UAD Compression Plugin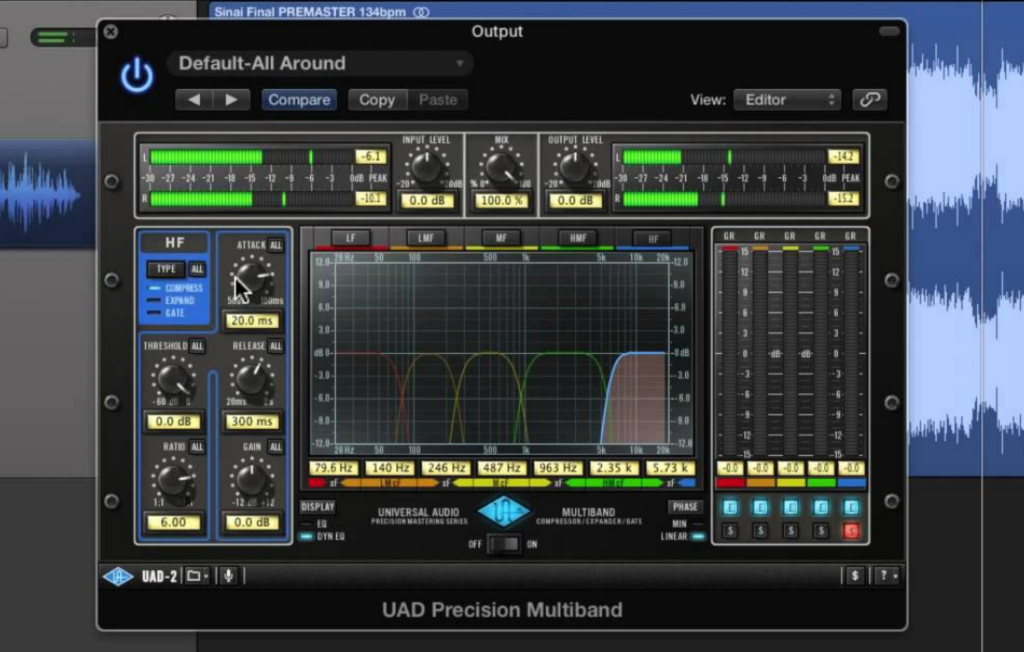 While its interface looks like something pulled out of a Boeing 777 cockpit, this is a go-to multiband compression plugin by Grammy award-winning mix and mastering engineers. A lot of Music studios in Miami and beyond swear by this compressor as well.
Precision UAD multiband compressor features 5 spectral bands for varying dynamic range. Each of these 5 bands offers additional features for gate modes, compression, and expansion. Also, this multiband compressor comes with two filter-bank modes for varying tones.
Whether it's adding a punch to your mix or altering multiple frequency bands on an entire mix, this compressor plugin will do it all.
Get UAD Precision Multiband Compressor plugin here
Softube Drawmer 1971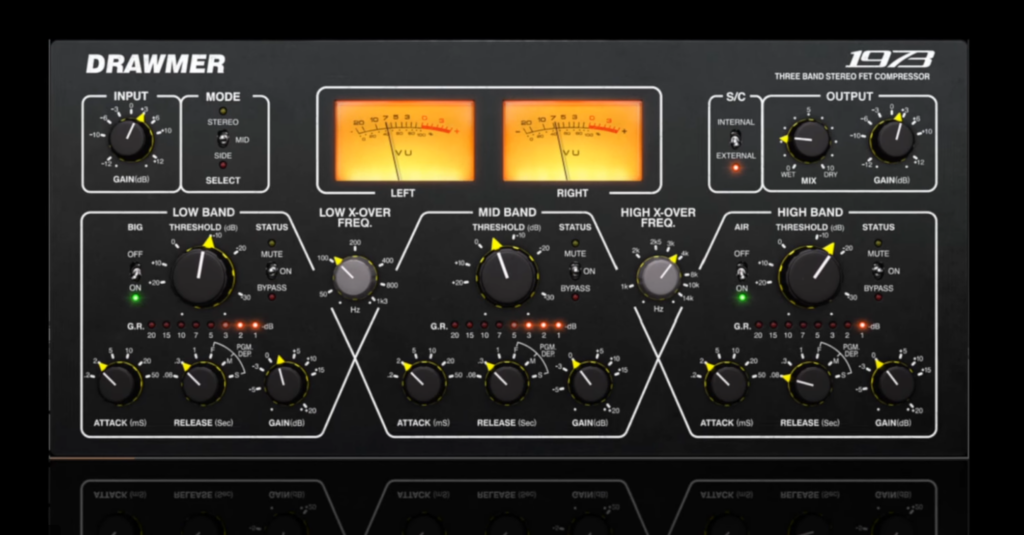 This plugin is a true blast from the past. It is perfect for those audio engineers wanting a retro feel on their DAW. Softube Drawmer 1971 borrows heavily from its predecessor the Drawmer '73. It features an analog interface with a 3 band functionality.
Each band comes with convenient controls for your attacks, releases, gains, and setting thresholds. If you are working with heavy mixes that need that extra oomph, the Softube Drawmer 1971 does it for you.
Back in the day, the Drawmer '73 carried advanced features that were lacking in conventional compressors at the time. Drawmer still sets the bar high to date. With a chic analog interface, this multiband compression plugin provides flexibility and quality in anything you throw at it.
Get Softtube Drawmer 1973 Multiband Compressor plugin Here
Blue Cat Dynamix (MB-5)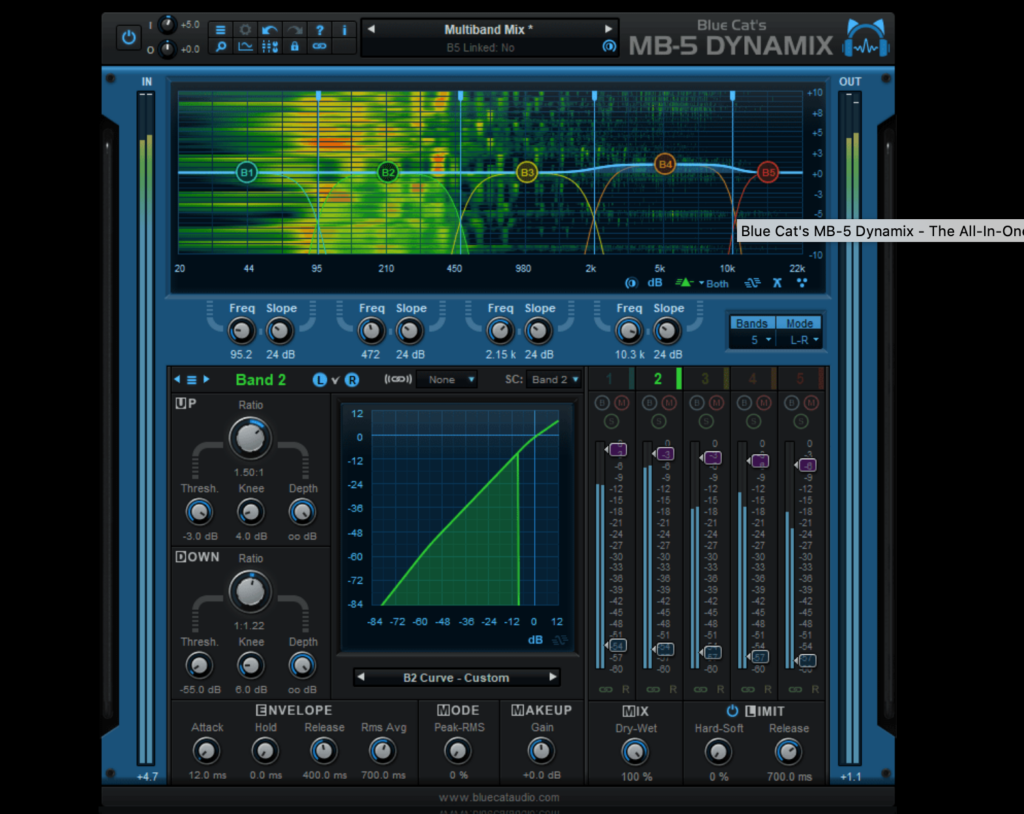 Another brilliant multiband compressor plugin that allows you to tweak its features. Blue Cat Dynamix MB-5 has 5 compression bands as per industry standards. You can set the ratio and threshold on each band as well as vary its depth controls.
Blue Cat Dynamic is ideal for the audio engineer looking for versatility in compressor plugins. Besides it being a brilliant multiband compressor plugin, mix and master engineers can use it as an expander, limiter, wave-shaper, and gate. Alternatively, all these features can be combined as one for your mixing convenience.
Get Blue Cat Dynamic (MB-5) Multiband Compressor plugin here
Work with a world famous mixing engineer today!
Working with compressors, let alone multiband compressors, for the first time can be daunting. There is so much to consider that getting your mix out on time may seem impossible. Or perhaps you already know your way around compressor plugins and want a professional to help improve your end sound.
If that is you, you can send your work over to Mr. Mix and Master to take your skills or your sound to the next level. We have been awarded numerous RIAA certifications for our mixing services and are privileged to have worked with top artists and producers in the game.