Best Acoustic Guitar for Recording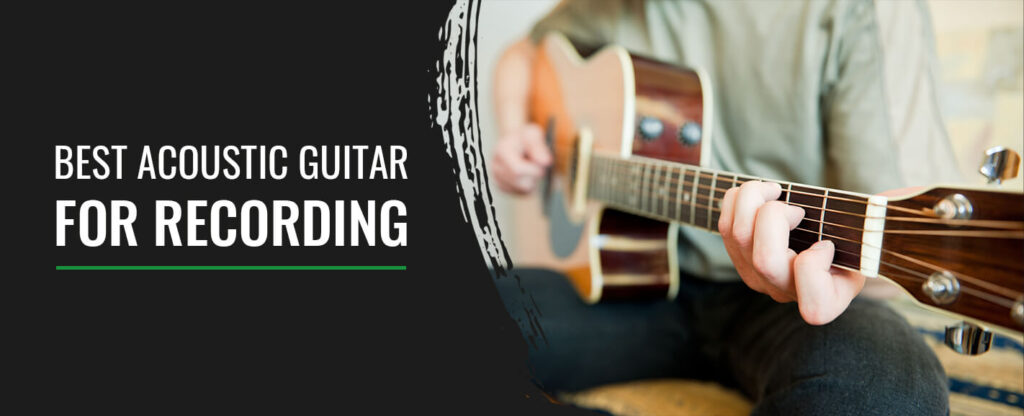 When you make a studio recording, you want equipment that can give you the best sound quality. The tricky part is this may differ from what you usually prefer when playing music for fun or at a venue. Choosing the best acoustic guitar recording equipment can significantly impact the quality of your record.
What Makes a Good Guitar Recording?
You should concentrate on three things when searching for the ideal recording guitar:
Sound projection: The guitar should make a clear, powerful sound into the microphone, covering noise in the background and the sound your fingers make on the strings. 
Sound quality: Look at the wood and craftsmanship of the guitar, which impacts the tone of the sound. 
Comfort: A great-sounding guitar means nothing if it isn't playable because it's too big or uncomfortable to hold. 
Why Use an Acoustic Guitar for Recording?
The sound you get from an acoustic guitar differs from other types of guitars. You get the best result when you use a mic and consider the size and shape of the room for the audio dynamics. You can learn a lot by listening to the guitar's sound in the room and making adjustments based on that.
Top 3 Acoustic Guitars for Recording
Remember that to achieve the optimal output, you also need special support equipment, such as the best mic for recording an acoustic guitar and fantastic recording equipment. That said, here are three guitars that have the features you want in the best acoustic guitar for recording.
1. Gibson Montana Hummingbird
This high-end acoustic guitar is a worthy investment for high-quality sound. You more than enjoy your money's worth with a sound that improves rock and folk ballads. It has a mahogany neck and back and a better audio tone range than other Gibsons. You also receive a preamp with your purchase.
2. Yamaha FG800 Acoustic Guitar
If you want a more affordable acoustic guitar, you can get this Yamaha for a competitive price. The tonal depth is excellent for its cost, making it an accessible and effective purchase. It works best for folk music, and you can pick it up anytime for a quality recording jam.
3. Martin D-15M
Made from mahogany, the Martin D-15M looks a little different from other acoustic guitars and feels comfortable to play. You will notice a deeper sound than many guitars without as much mahogany. It also works well with a variety of mics.
Visit Our Recording Studio in Miami
How do we know so much about acoustic guitars? We have an amazing studio recording space in Miami. Each of our four distinct recording rooms reflects a unique style and design with top-quality equipment. The studio is run by a professional who has gone platinum 129 times and is a two-time Grammy-winning musical engineer.
We have received more than 200 five-star reviews from satisfied artists for our production skills and expertise. 
Visit Mr. Mix & Master studio today to learn more.